DeMew House
175 Abeel Street
Tel: 18453892525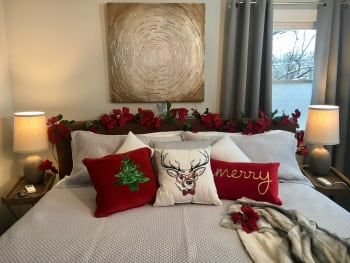 DeMew House is an exclusive, newly renovated 1850s brick home, one block from the historic Kingston waterfront. Enjoy total privacy in an elegantly designed contemporary/transitional two-story home with an open floor plan that is inviting, warm and intimate. The home has a spacious KING bedroom with marina views, an en suite bathroom with a romantic two-person shower and double vanity. It has a full kitchen, central air, private driveway for off-street parking and gazebo for outdoor dining. The kitchen is fully equipped with stove, microwave, dishwasher, refrigerator, and Keurig. Your stay includes Wi-Fi and HDTV. This home ideally accommodates 2 people, but can sleep four. DeMew House is a smoke-free home, and pets cannot be accommodated. From DeMew House, walk across the street to the promenade lined with sailboats to visit the waterfront restaurants, galleries, museums, cruises and shopping.
Facilities
Covered, Private Gazebo
Private Driveway
Full Kitchen
King Pillowtop Bed
Double Vanity
Shower for Two
Closet w Wooden Hangers
5 Min Walk to Restaurants
Satellite TV/Free wifi
Across from Marina
Bar (nearby)
Café / Restaurant (nearby)
Fishing
Golf Course (nearby)
Laundry And Dry Clean (Charge)
Shop (nearby)
Terrace
Wi-Fi
Policies
Check In: Between 3:00 and 12:00
Check Out: Between 5:00 and 11:00
Wi-fi: Wireless internet is available and is free of charge.
Smoking: There is no smoking permitted anywhere within the property.
Parking: Parking for all guests is available on site and is free of charge.


Children: Children aged 5 or over are welcome.
Pets: Pets are not allowed.
Groups: All groups are accepted.
Average
5.0
out of 5
7 reviews
100% recommend
Reviews
2nd January 2019:

Was very easy dealing with Mary Anne. She was very attentive and on top of everything. I loved the layout of the Townhouse and it's very close to anywhere you want to go. I lived our stay there. It s a lovely small town
Tips:
Go to Savonas, Ship to shore and the experience we had at Le Canard Enchaine was unrivaled... All with great food and great service
Would Recommend: Yes
5th June 2018:

The proprietors are excellent - they will attend to your stay while giving complete privacy. The Inn, a restored historic home occupied solely by the guest, is impeccably designed, and stocked with your every need. You have a private driveway, backyard and gazebo. I look forward to returning to the Roundout area and staying in the DeMew House.
Tips:
Walk along the river to the strand, Broadway and its little shops. Breakfast or brunch at Dolce. Drive through the area looking at amazing old homes - some restored, some waiting for some TLC.
Would Recommend: Yes
31st October 2017:

The minute I pulled into the driveway, I felt welcomed. The grounds around the DeMew House are peaceful and lovely; the gazebo next to the lush lawn beckons you to come sit a spell. When I opened the door to my home-away-from-home, I immediately felt the DeMew House was a DeLuxe House. On the first floor you have the beautiful kitchen, breakfast nook, and the living room / den that envelop you in comfort. Ascend the stairs with the handsome wrought iron handrails, and you walk into the bedroom area with its plush carpeting, huge bed that lulls to you to sleep, and an ensuite bathroom I wish I could duplicate in my own home. The shower is fantastic! Once you settle in, you start to notice all the details, the appointments, the thoughtful planning that went into creating a home with all the amenities you could want. Even a subtle sensor light under the bed that comes on if you have to get up in the middle of the night. Mary Ann and Joe thought of everything! They truly want you to be comfortable. I thoroughly enjoyed my three-night stay and plan to come back! I have wonderful memories!
Tips:
Once I parked my rental car in the driveway, I didn't use it again until I left. I walked everywhere. I had breakfast twice at Dolce (loved it!), in the historic district -- a 10-15 minute walk from the DeMew House. A great lunch at Armadillo, too, right up the hill from the house. Kingston was founded in 1652 and is steeped in history! All the wonderful old buildings and homes! I had a great time walking around and soaking in the culture. People on the street are genuinely friendly.
Would Recommend: Yes
Owner Response:
One of the pleasures of hosting is meeting guests like you. He came as a guest and left as a friend.
2nd October 2017:

We thoroughly enjoyed our stay at DeMew House. The furnishings were wonderful, especially the upstairs bedroom. The home was comfortable and inviting and the hosts, Mary Ann and Joe were a delight. The home has everything you could want or need with detailed instructions and recommendations to all the amenities needed to have a relaxing and restful stay. Check in and Check out were easy. The location was within walking distance of many wonderful places to eat and cultural locations. We highly recommend staying here and look forward to returning in the future to stay.
Would Recommend: Yes
3rd September 2017:

What a wonderful place to stay! If you are in NYC and looking for a weekend getaway, look no further! DeMew has everything you need and then some! The home is immaculate and all the furnishings are brand new. Can't say enough about the king size bed, huge bathroom, full kitchen and living room. The Marchetti's spare no expense to ensure their guests have all the essentials. Everything from a wine & cheese welcome plate to a full book of places to go, eat and all in between. The location is less than a 10-minute walk along the water to downtown and only a short drive to several adventure activities! (We hiked 'Gertrudes Nose' just outside nearby New Paltz. Downtown Kingston has plenty of dining options, shops and cultural locals. (Uptown is a short car ride away.) This was our second stay at DeMew & already are planning on heading back in a few weeks! Thank you Mary Ann & Joe for being the greatest hosts! ~Chuck & Michele
Would Recommend: Yes
Owner Response:
Chuck and Michele are wonderful guests as well. We enjoy having our efforts appreciated and have met another outgoing, terrific couple! We welcome them back at any time!
6th July 2017:

DeMew House is a great place to stay. A very comfortable bed and well stocked kitchen. Communication with the host before and during our stay was very good. Checkin and departure were a breeze.
Tips:
The neighborhood is walkable - several restaurants nearby - an art gallery and wine store, etc. We visited from NYC without a car and found the marina location to be pedestrian friendly (taxi to uptown shops/restaurants, if you need it, is cheap and timely).
Would Recommend: Yes
8th June 2017:

This delightful little house just couldn't be any better. Be sure to look at the photos on the website, they really give a good feel for it and no exaggeration. Everything is designed for comfort and convenience and lovely decorating--a complete kitchen, a comfortable and attractive seating area, a lovely outdoor patio, and a great bed and bath upstairs. The Marchettis are very friendly and helpful but never intrusive. And the location couldn't be better. You can walk to art galleries and restaurants in a few blocks and other parts of Kingston and the countryside are close by. Beautiful drives along the Hudson if you want to get out of town. I'd absolutely recommend this place to anyone.
Would Recommend: Yes
Owner Response:
It was lovely meeting you and Liz! I'm happy you enjoyed your stay and our new guest house!
.