Bel's Boutique Bed and Breakfast
69 Spring Street
Tel: 845 943-0622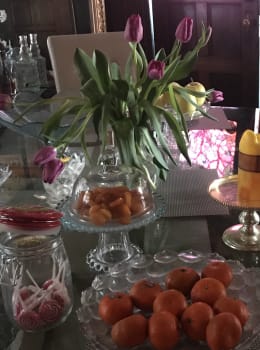 Victorian bed and breakfast established in 2003, former Medical Building built in 1856 serves a FULL breakfast! It offers a wrap around porch, grand dining room, large bedrooms with wide board floors, Living Room, TV Room, and many architectural features in an Historic district in downtown Kingston. Walking distance to the waterfront, Cruise Ship, Maritime Museum, Trolley Museum, Boat Building School, Restaurants, Art galleries, Antiquing, and Boutiques makes Bel's Inn have frequent visitors from around the world. Experience the Rip Van Winkle cruise ship along the Hudson River while enjoying a cool refreshment! Please call directly before 9:00 pm for a reservation, last minute guests are welcome. Thank you! Best, Bel:) *
Facilities
front porch
a separate cottage
Dining Room, Living Room
Early Breakfast By Arrangement
Breakfast Room
Internet Access
Lounge
Luggage Storage
Television Lounge
Policies
Check In: Between 14:00 and 18:00
Check Out: Between 11:00 and 11:30
Wi-fi: Wireless internet is available and is free of charge.
Smoking: There is no smoking permitted anywhere within the property.
Parking: Parking for all guests is available on site and is free of charge.


Children: All guests must be 18 or over, no children are allowed.
Pets: Pets are not allowed.
Groups: All groups are accepted.
Average
5.0
out of 5
10 reviews
100% recommend
Reviews
9th October 2018:

Would Recommend: Yes
2nd September 2018:

What a treat! Bel's Inn has charm and coziness. Upstate NY is full of beautiful places and Bel's Inn fits right in.
Tips:
The walk down the hill to the waters edge is amazing. Great views. Dolce's cafe is yummy.
Would Recommend: Yes
5th August 2018:

Great location, walk to down town Kingston. Lots of shops and restaurants. Bel and Gerry were great, took care of everything. Food was delicious. Definitely going back.
Would Recommend: Yes
28th November 2017:

This was a pleasant quaint and comfortable Inn... Bel was very welcoming and helpful. Breakfast was good and Bel even helped us to rent a car as we wanted to tour the Catskills for the day before we flew home that evening from Newburgh/Stewert Airport. We would definitely recommend Bels Inn to anyone interested in visiting the area.
Would Recommend: Yes
20th November 2017:

Bel was the consummate host! She really went above and beyond. Wonderful, nice, welcoming. Inn has a lot of charm. Everything was clean and ready when we arrived. Breakfast was DELICIOUS!
Would Recommend: Yes
23rd October 2017:

Bel treated us as family. Beautiful Inn and wonderful food. We would definitely stay there again.
Would Recommend: Yes
9th October 2017:

Would Recommend: Yes
31st August 2017:

Bel's Inn is a really lovely B&B. We stayed at the cottage which was a four room house and it was beautiful. Bel is a really lovely person and a great hostess. She makes you feel welcome from from the minute you arrive.
Tips:
Ship to Shore restaurant a must. Great food and service. Hudson River Cruises is a must tour.
Would Recommend: Yes
30th August 2017:

We had a wonderful time at Bel's Inn! Bel is a very gracious hostess; the room was lovely and breakfast was delicious. We'll be visiting again!
Tips:
Bel's Inn is within walking distance to the Kingston waterfront, with many excellent shops and restaurants. We had dinner at Molé Molé followed by locally-sourced ice cream at Redstart Coffee.
Would Recommend: Yes
25th July 2017:

Bel went above and beyond for my daughter and me. She runs a delightful inn and she herself is a warm and welcoming host. Highly recommended.
Would Recommend: Yes
.