The Gallery Inn
93 Broadway
Tel: 845-514-3998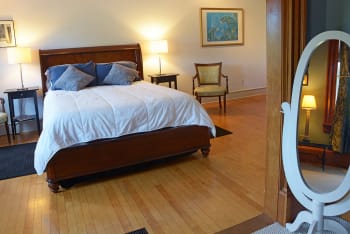 The Gallery Inn is spacious loft style accommodation filled with contemporary art that honors its twenty year history as an art gallery. Located in an 1860's historic building just a few blocks from Kingston's waterfront where you can visit museums, several art galleries, antique centers, marinas, the waterfront promenade, and many great restaurants. The Gallery Inn is more spacious than a hotel room and more private than a Bed & Breakfast. It a large studio apartment with a full kitchen. It has been beautifully updated with a loft style bedroom, bathroom with walk-in double shower, and outside balcony. It is uniquely decorated with art by local artists which are for sale and offers all the modern day conveniences-Cable TV, A/C, bluetooth speaker and High Speed Wireless Internet. The apartment suite is fully furnished with linens, towels, iron and ironing board, and hair dryer. It is set up to be self-sufficient (no daily maid service). This is smoke-free and pet-free accommodation.
Facilities
Full Kitchen
Internet Access
Policies
Check In: Between 13:00 and 17:00
Check Out: Between 9:00 and 11:00
Wi-fi: Wireless internet is available and is free of charge.
Smoking: There is no smoking permitted anywhere within the property.
Parking: Parking for all guests is available on site and is free of charge.


Children: Children of all ages are welcome.
Pets: Pets are not allowed.
Groups: Groups are accepted up to a maximum of 2 people. No stag and hen groups.
Average
4.9
out of 5
25 reviews
100% recommend
Reviews
21st January 2019:

Would Recommend: Yes
Owner Response:
Thank you for taking the time to review your stay with us and for recommending my Inn to other travelers. If you're traveling to our area gain soon, I would love to have you stay here again!
12th November 2018:

Great location lovely lodging would come back again anytime
Tips:
Downtown cafe next door excellent
Would Recommend: Yes
11th November 2018:

I loved staying in this adorable spot! Very clean and it had everything one needs to be right at home. I thoroughly enjoyed my stay!
Tips:
Great location! Walking distance to terrific restaurants, wine bar and cute shops!
Would Recommend: Yes
27th October 2018:

This loft open 1 BR apt has personality and soul! It is cozy, well appointed and filled with eclectic art. The owner was very gracious and helpful with welcoming us and settling in. The bed is cozy and the kitchen fills with light late morning. There is a tower fan to run softly which helps block out the minor street noise. Great walking distance to all things historic Rondout/Kingston.
Tips:
We enjoyed the excellent food/service at Golden Ginza and Downtown Cafe (the chef, Graziannos, is on youtube!), all on Broadway and within a very short walk of the apartment.
Would Recommend: Yes
18th October 2018:

Would Recommend: Yes
Owner Response:
Thank you for giving us a perfect rating and for recommending The Gallery Inn to other travelers. I'm happy that you enjoyed your stay! If you're traveling to our area gain soon, don't hesitate to call us.
11th October 2018:

Nancy was a great host, meeting us at the parking spot behind the Gallery Inn and assisting us with our luggage. The apartment was comfortable, very clean, great art work on the walls, a full kitchen, great shower and with all the accoutrements you'd find in a upscale hotel. The Italian Fest was going on when we arrived, so a wonderful addition to our stay! Great food and entertainment in the area.
Tips:
The Stockade District has an English village feel and a great area for strolling around. Sorry we missed the O+ Festival, but hopefully the beautiful murals will still be there for a while. Coffee and bagel at the Monkey Joe Roastig Company is a great way to start the day.
Would Recommend: Yes
Owner Response:
Thank you for taking the time to review your stay with us and for recommending The Gallery Inn to other travelers. If you're traveling to our area gain soon, don't hesitate to call us.
3rd October 2018:

Great location, beautiful place,nice people!
Would Recommend: Yes
11th September 2018:

Would Recommend: Yes
10th September 2018:

Would Recommend: Yes
30th July 2018:

The Gallery Inn space was beautiful, spacious, comfortable, aesthetically pleasing, and well-supplied. I spent a lot of time looking at the art on the walls, thinking about which one I would like to have in my house (all of them), and just enjoying the rooms. I also liked the back porch and sat out there to watch the moon rise.
Tips:
I enjoyed walking down to the river, and if I'd had more time, I would have booked a Hudson River cruise. I drove up to the historic center of Kingston (it's kind of a shame you have to drive), and found (as recommended) Rough Draft Books & Bar (an excellent place - every town should have one) and Boiston's for dinner. I would definitely come back to explore more of the town.
Would Recommend: Yes
4th June 2018:

Nancy was friendly and accommadating. She provided recommendations on where to eat and places to walk to. Her B&B is charming and comfortable. It is a quiet respite after a day of sightseeing and shopping.
Tips:
If you want an active nighthe life then Kingston isn't you Also if you have a problem climbing stairs there is steep set to climb to get up to the B&B but Nancy assited me with my luggage. Kingston NY is quiet though on Friday nights they do have a DJ at Old Savanah Restaurant. Next door to the B&B is the Downtown Cafe which I highly recommend. Don't let the exterior detour you. It is a quaint little Italian restarant, where, if you sit at the counter, you can watch the italian chef cook and engage in a good conversation him ant the staff. Downtown Cafe does not serve alcohol but you can bring your own bottle of wine which you can purchase down the street at Kingston Wine Co. They have an excellent variety of wines from around the world and the staff appeared to be very knowledgeable. And there is no uncorking fee at the restaurant. One last place to recommend. For breakfast Deluce. There omelets and crepes are excellent. Since I have celiac I tried there gluten free crepes which was a treat for me.
Would Recommend: Yes
1st June 2018:

The Gallery Inn exceeded our expectations! It is a super-clean, light-filled, high-ceiling loft that has been modernized without losing the vintage charm of the older brick building. The rooms are spacious, the kitchen is large enough to seat four for a meal and the bathroom has been completely updated. Nancy, our host, was welcoming and accommodated our later arrival. We are already planning our next visit there.
Tips:
Kingston is full of wonderful places to shop, eat and drink: check out Deisings Bakery uptown for breakfast. If you like the outdoors, drive to Minnewaska State Park for a two mile walk around the glacial lake. Dogs on leash are welcome and it is a good walk for kids.
Would Recommend: Yes
Owner Response:
I'm so glad you enjoyed your stay at The Gallery Inn! And thank you for taking such great care of my apartment. I am looking forward to your return visit. Please inquire about our returning guests discount when you do.
22nd May 2018:

A really homey and elegant apartment above the owner's art gallery, at the edge of the waterfront historic district and its charming little line of shops, restaurants and museums. With its large kitchen, farm table and comfortable furnishings it would comfortably support a longer stay as a base for touring the surrounding towns and places of interest.
Tips:
The waterfront museum runs boat trips to the lighthouse ... we can recommend Redstart Coffee, Dolce and Ship to Shore among several other cafes and restaurants within two blocks, there are eclectic antiques and boutiques, and a second historic district dating back to colonial time (the uptown 'stockade' district) a short drive away -- and we learned about all of these finds from the owner and info in the apartment! Also: Bigger, flashier Rhinebeck is just a 15-minute drive.
Would Recommend: Yes
Owner Response:
I am so glad to hear that you enjoyed your stay with us! Thank you for your wonderful review and the great tips for other travelers. I hope to see you again soon!
14th May 2018:

Located in historic Kingston, a neighborhood with charming shops and restaurants, this lovely loft apartment is filled with light and original art work...very comfortable. The short walk down to the canal and along the path is a great way to stimulate your appetite or walk off some calories after dinner. The sound of large trucks driving on Broadway sometimes disturbs the tranquility of the space.
Tips:
Gustavio's Garden Cafe , conveniently located next door, is a gem...homemade pasta with freshly picked fiddlehead ferns and cherry tomatoes in his signature sauce was perfectly delicious. As were the PEI mussels I had the next evening. You will meet locals there who are willing to share their wine at this BYOB cafe. Also enjoyed the half rack of lamb at Ship to Shore.
Would Recommend: Yes
18th December 2017:

The place is really comfortable and clean, has a lot of historic charm, and Nancy has thought of all the small details (like a bluetooth speaker for playing music, etc.) We hope to be back some day for a longer stay.
Would Recommend: Yes
4th December 2017:

This place made our weekend trip so much more than we expected. The reason for the trip was a wedding of a long time friend of mine. The wedding was so so, but staying in this great apartment, on this great street, in this great part of town made this trip something completely different. We would stay here again in a moment.
Tips:
Dolce breakfast was great, as well as their coffee. Mariner's Harbor is great for lunch and has a great atmosphere. Uptown Kingston is beautiful at night. Very quaint.
Would Recommend: Yes
Owner Response:
Thank you for your positive comments. I am so glad to hear that you enjoyed your stay with us! I hope your next stay and just around the corner. Call us if there is anything we can help you with.
16th November 2017:

Lovely stay and a spacious, clean, and well located apartment above an art gallery.
Would Recommend: Yes
Owner Response:
Dear Guest. Thank you for taking the time to review your stay with us and for recommending The Gallery Inn to other travelers. If you're traveling to our area gain soon, don't hesitate to call us.
23rd October 2017:

This was my third visit. The first was in February. I come to read and relax and walk around the historic town. Now I think of the Inn as my home-away-from home.
Tips:
One of the main attractions is that it is a very short walk to the Pivot Cafe, where I have morning coffee and breakfast, and interesting talks with the owner, Daniel. And a another short distance for lunch and dinner restaurants. I always return to Mariners Harbor, which is right on the water, and Ship to Shore, which is a bit in from the water.
Would Recommend: Yes
13th October 2017:

Would Recommend: Yes
13th September 2017:

It was a great place for my husband and daughter to stay while she competed at the local BMX track there. It has a very home like feel to it. They both enjoyed their stay.
Tips:
A variety of restaurants available.
Would Recommend: Yes
29th August 2017:

We enjoyed this clean, quiet, nicely appointed and perfectly located apartment for a few days mid-week. The kitchen was outfitted well enough that we also made a few meals. And our host was very accommodating.
Tips:
We opted to stay in the Roundout while our son was at Tivoli Sailing Co camp for a week. It was so nice for him to walk down the hill to the Roundout Creek where they set sail each morning. We also took a tour of the Hudson one afternoon on the charming Rip Van Winkel. We enjoyed the Roundout shops and restaurants. Including Clove and Creek, Hops Petuna, Jay Teske Leather. We enjoyed the molten chocolate cake at Ship to Shore, nachos at Mole Mole and fried green tomatoes at Old Savannah. And the coffee and Jane's ice cream at Redstart coffee. This site gives a nice feel for the area and more local businesses: http://thekingstonwaterfront.com
Would Recommend: Yes
Owner Response:
Dear Guest, Thank you for your positive comments. I am so glad to hear that you enjoyed your stay with us! You are welcome back anytime! Nancy
25th August 2017:

the pictures on line did no justice to the specialness of the space and the kindness of the owner. we planned the day before so everything else was booked, we just booked it because they happened to have that one night available . it was one of those moments after we got there and after meeting the owner that we knew the universe had reserved it for us. thank you.
Tips:
you may want to bring bikes, a car... we thought we would rent bikes. it is such a beautiful town to do so but then realized there was no bike rentals. the restaurant dolce has the best vegan gluten free crepe ever. you have to ask for it. ask what is going on in and around town. its really nice to do what ever the community is doing . we didn't have one bad dining experience . i would for sure stay in the part of town we were....right by the water...
Would Recommend: Yes
Owner Response:
Thank you for giving us a perfect rating and for recommending my Inn to other travelers. Would love to have you return anytime! Nancy
6th August 2017:

Great Space in an excellent location near the waterfront. Several good restaurants in the area. Only complaint was that the nights were cool and most of the windows didn't open and the air conditioning was somewhat loud.
Tips:
We took a side trip to Minnewaska State Park. Had a really good hike. It was about 45 minutes away and played golf in Red Hook. We went to 3 different restaurants down there. They were all good.
Would Recommend: Yes
31st July 2017:

The apartment is large, open, and nicely decorated. A balcony overlooks a pleasantly overgrown backyard. Bed is rather small, a double I think, and the mattress is soft. There is no maid service but plenty of clean towels. The kitchen is well-stocked with dishes, pots, etc., no dish washer or laundry facilities; would have preferred the latter to the microwave provided. Our chief complaint is that the apartment really has no window screens. There is only one loose screen in a front window, and it has to be shut at night, along with all windows. There is air-conditioning and there are two fans, but by morning the apartment was a bit stuffy. A summer rental property should have window screens so guests can enjoy the fresh country air!
Tips:
The apartments centrally located in an interesting area, with good local restaurants. We drove to the Bard and Glimmerglass Opera festivals and generally enjoyed our stay.
Would Recommend: Yes
Owner Response:
Dear Guest Thank you for taking the time to review your stay with us. I'm glad you found everything you needed,except for the screens of course. Because the Inn is in an historic district we can cannot replace our wooden windows with those that come with screens. I do have extra screens for the windows in a small closet, in the future I will leave them out for my guests to find. Again thank you for your feedback. I strive to make everyone's stay as pleasant and comfortable as possible. I hope to be able to welcome you back on a return visit to Kingston. Nancy
1st May 2017:

Thoroughly enjoyed the apartment, which met our needs and gave us an oasis of pleasure during what was otherwise a working visit. The art on the walls and the bottle of wine were lovely extra touches. Thank you, Nancy! (though I am forced to rate staff above, there is no staff, which is part of the appeal for us in this situation)
Would Recommend: Yes
.